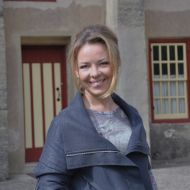 Gitana was born and raised in Lithuania, a quaint, Eastern-European country that values old-world principles of responsibility, hard work and integrity. Much of the family life revolves around the home, and the home is meticulously cared for and maintained. From a young age, being "clean" is a way of life.

Gitana moved to Doylestown PA over 10 years ago, because of it's quaint feel and the qualities that reminded her of where she was raised. She is part of the community: she lives where you live, shops where you shop, and understands your unique needs. Because of this, she develops a personal relationship with clients.

Gitana's passions include: decorating, sewing, crafts, gardening, cooking, and family. She is also a trained interior-decorator, specializing in custom window-treatments. You may find some of her custom-sewn window treatments in homes throughout the area!